Host Gateway Server Technical Information
New and Improved Features in HGS 3.0
Improved configuration capabilities

All configuration and administration actions may be performed from a single server or workstation.
Communications configurations may be shared among multiple servers

Improved management capabilities

Improved session monitor display
New performance charts
Complete integration with Windows Performance Monitoring
Allows dynamic updates of communications and diagnostic configurations

Modernized

Updated for current Microsoft operating systems
Utilizes WPF and WCF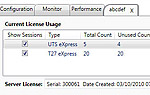 Host Gateway Server has a low total cost of ownership. Utilizing Microsoft's one-touch deployment methodology for the administration tools and ClickOnce technology for browser-based clients, as well as centralized configuration of the client connectivity options, makes Host Gateway Server simple to maintain.

Host Gateway Server has the ability to accept a mixture of encrypted and non-encrypted connections. This feature allows for secure connections when required, such as from systems outside of the enterprise network, and clear text connections when encryption is not required.

There is no need to go to the server to do configuration because all configuration actions may be done remotely. Host Gateway Server offers the same easy-to-configure host connectivity as found in the eXpress emulators.